Hotel Information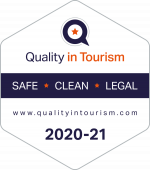 New National Restrictions are in place from 2nd December 2020. These 'lockdown' restrictions mean that hotels can only open for those who have to travel for work purposes whilst West Yorkshire is under Tier 3 restrictions. Travelling for work means anyone travelling from outside our area. If this does not apply to you/your party please DO NOT travel. Instead please arrange to cancel your booking. The Hotel may also require proof of eligibility to stay from your employer.
If you are travelling to form a Christmas Bubble on Christmas Day please note we can only accept bookings to arrive on 24th/25th December, and must depart on 25th/26th December.
If you have a reservation during this time and you are not travelling for work, please note that it is your responsibility to cancel your booking**
**Please note we are unable to accept any guests that are travelling from a Tier 4 area, please do not attempt to visit**
Changing the way we do things
Check in/Check Out – Will be contact less where possible. You will receive a link to complete check in registration on your booking confirmation, and a reminder on the day of arrival. When you arrive, visit Reception to collect your key card for your room and Reception will direct you to your room.
On the morning of check out Reception will email you a pdf copy of your invoice. Please note that the invoice address must be completed for us to include this on your invoice.
Payment – We will send you a payment link upon booking, and also a reminder on the day of arrival for you to click and pay to avoid unnecessary queues in Reception.
Housekeeping –  There will be no housekeeping service,  extra laundry/pillows and extra tea/coffee etc can be requested from Reception.
Food & Drink – We are only offering Room Service Drinks at the moment in line with the current National Restrictions. Our Kitchen is closed until further notice.
Breakfast – We are able to provide a Continental Grab N Go breakfast for £5.00 per person –  Menu can be found here.
For anyone who has booked a Bed & Breakfast rate this will be included for you.
We have measures in place to protect both our guest's and staff:
Plexi-glass screens at Reception
Floor signs advising where to wait
Card payments only where possible
Hand Sanitiser available on arrival, and throughout the hotel.
Enhanced cleaning schedules, and regular cleaning of the public areas – Reception/Toilets
One way system throughout the Hotel where possible
Staff Training
We hope our guests are all well, and have been staying safe – and we look forward to welcoming you back to the Hotel.